What are veneers?
Veneers are an ideal cosmetic solution for everyone who desires a beautiful smile with minimal invasions into their teeth.
We can improve your facial appearance and boost your confidence with dental veneers by hiding your natural teeth behind a very thin layer of porcelain. Veneers can be used to change the shape, size, color and symmetry of the teeth and smile.
Veneers (or porcelain veneers) are an ideal way of treating discoloured or unsightly teeth, closing gaps between front teeth or repairing chips and cracks. They are thin slices of porcelain that are precisely made to fit over the visible surface of front teeth, in the same way that a false fingernail fits over a nail.
To make a veneer, a very small amount of enamel is removed from your tooth. An impression is taken for the veneer to be made in the laboratory and then bonded to the tooth. They match the colour, appearance and translucence of your natural teeth.
Please see our price list for Beechwood Dental veneers prices.
Take a look at our expert dental work with before and after veneer images.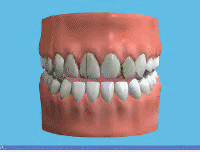 (please note that the following are clinical photographs and the before images, may be unpleasant to view)
Worn teeth restored with Veneers.