Implantology
Dental implants (sometimes referred to as teeth implants) are a permanent and fixed solution to missing teeth.
A titanium screw is placed into the jaw bone to replace the tooth's natural root.
This integrates over a period of three to six months as the bone grows around the screw and holds it firmly in place. A crown is then placed onto the fixed screw to replace the original tooth.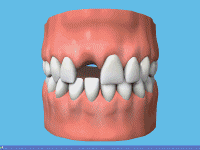 Single & Multiple Implants:
This treatment is suitable for the replacement of single teeth or complete tooth loss in the upper and lower jaw. The placement of implants involves a straightforward procedure usually carried out under local anesthetic.
Many patients are suitable candidates for dental implants and the results provide the patient with the nearest alternative to their natural tooth or teeth that can look aesthetically superb and provide complete confidence when biting, chewing and laughing.
Dr. Peter Casey (pictured here during Dental Implant surgery) has been placing dental implants in Dublin for more than 11 years with impressive results. You can read more detail about his experience in dental implants here. Please read on to hear real patient testimonials of their experience in his care, and also to view some case studies of dental implant cases (please note that these are clinical photographs that may be unpleasant to view).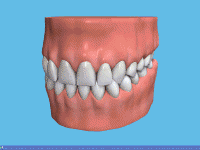 Dr. Peter Casey – experienced dental implantology pictured here during implant surgery: